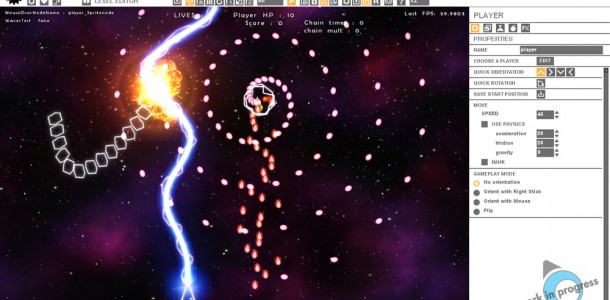 SHMUP CREATOR : BUILD & BLAST
July 04, 2014
mathilde
1 Comment
But what is the Bulo team working on?
One small post then radio silence.
Let's stop playing hide and seek! You'll soon know everything about our secret project! Not everything though because if we tell you the whole plan then there are no surprises left!
We have been hard at work for months on the development of a tool which will enable you to create your own Shoot'em up: the SHMUP Creator!
This tool will help you create your own games and easily build your levels without coding at all.
First of all, because we are keeping a close eye on the quality of the games released in the genre, your creations will be on par with professional products!
Secondly, we are focusing on what is important for shmup games and the development of dedicated tools, keeping in mind the sentence "what makes a good shooting game?". And I can't help but quote Hiroyuki Maruyama (G.rev CEO): "A good shooting game? We shoot, we blast the enemy, and they disappear in a great explosion!".
Finally, let's not forget that the shoot'em up genre is the first video game genre in the history of video games, with Space war (1961). This type of game is a good way to introduce yourself in the making of a game if you are a novice and curious.
No worry for the experts, the simplicity and the power of the SHMUP Creator will help you create, at last, your dream projects!
And because we are nice people, we will include some assets packs with the SHMUP Creator, so that you can start playing immediately, building levels and having fun, without spending 3 months modelling a space ship.
To make the time go faster, some features:
. create 2D or 3D games
. vertical or horizontal shmups
. state of the art 3D engine: shadows, shaders, particle effects, post processing…
. scoring systems
. bullets patterns editor
… And a lot more!
That's all well and good but when are we going to play with the SHMUP Creator?
The SHMUP Creator will be in Alpha at the end of the summer, well we are doing our best to reach this goal.
Meanwhile, this blog is going to be the opportunity to share our adventure and share our ups and downs about our development.
This blog is also an occasion to give you details about some more technical, gfx, or marketing oriented topics.
Finally, feel free to ask us questions, send us suggestions or comments… or just chat.
We do our best to be attentive and we are already happy to live this adventure with you!
Fasten your seat belt and let's start!